Lesley Danford is a semi-professional photographer, operating primarily in the wildlife arena. Her love for the creatures that inhabit the countryside and her skill in capturing their most alluring moments, is matched only by her affection for the printed image. In this piece, we discover just why she feels that her Citizen CX-02 printer is such a crucial factor in her photographic journeys.
Lesley lives in rural Buckinghamshire, an enviable part of the UK for anyone with an interest in wildlife photography. Alongside her ceramics business, which she has operated for a number of years, Lesley's passion for wildlife has taken her from shooting products solely for the business to working, in part, as a dedicated, semi-pro wildlife photographer, and heading outside to be amongst the elements and the creatures which serve as a constant draw for her creativity.
Her interest in wildlife has been a constant throughout her life and is something that naturally developed into a passion for wildlife photography.
Lesley stated,when asked about the original spark that caused her love for the medium: "I think it comes from having spent my early years growing up in the countryside and spending many a happy hour on my uncle's farm. I have always had an appreciation of photography, too, spent quite some time working for a photo/video production company in my younger years. It's really been over the past few years that my interest has developed further and taken a stronger hold. I now work exclusively with Nikon cameras and when the D850 was launched, I quickly ordered one for my work, opting for the MB-D18 battery grip, which boosts the frame rates up to 9fps. It's a really useful feature for wildlife photography and the D850 really does capture exceptionally sharp images, even shooting at these high frame rates.
With regards to producing her images; Lesley believes that the creative process around her image-making isn't complete until they take a physical form: "Looking through photographs online is easy, but this format for viewing photography lacks substance and is usually fleeting and ultimately feels disposable. Images displayed on screens just don't convey the emotion you get from a physical picture, especially if it's an image that you have captured yourself. A physical photograph will bring back memories and can be very emotional, driving the individual to specific moments. Quite simply,photoscreate social interaction and family photographs are generally regarded as the most precious, and taking any photograph perfectly requires planning and an amount of attention to detail for it to live on."
The printed image is a constant point that's raised time and time again with many photographers. The allure of the physical print is hard to deny, and it seems that it's not purely a hangover from a generation that had no alternative during the days before digital. The recent growth of the analogue photography market, which has been predominantly driven by consumers under the age of 35, coupled with a fresh appetite for photofinishing, has something that Lesley can't encourage enough.
"I have crates of photographs which I have taken over the years and based on the era they were taken, there weren't many options available to have these produced. Then, it was either Boots the Chemist or you'd have to send your film away to a distant fulfilment lab like Bonus Print. You could never be sure just what would come back, so thankfully now, with the introduction of digital photography, it's now possible to shoot hundreds of pictures, pick the ones that you really like and print instantly on a quality printer like my Citizen CX-02 photo printer.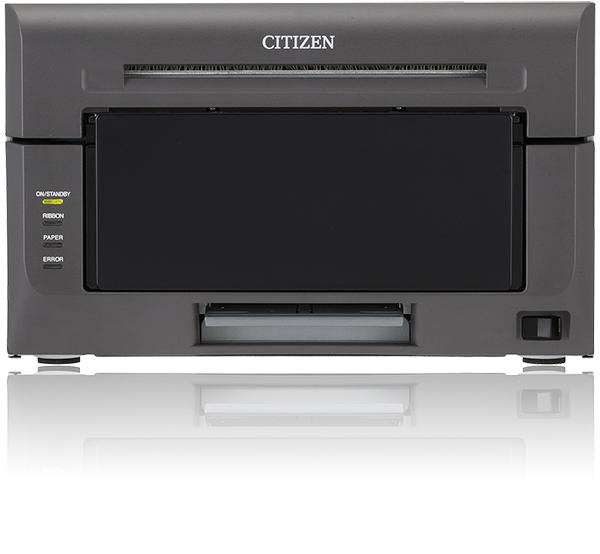 There's been a trend that's accompanied the advent of digital photography, which has seen many people 'getting by' with viewing their images on smartphones, tablet or desktop screens and that's fine for the disposable 'social photography snapper'. However, with more considered digital photography and a high end, reliable printer with exceptional colour reproduction like the CX-02, I can display and update my images as often as I wish. I have a lot to thank this printer for; it's compact, so perfect for a crowded home desktop, which is where I spend my time in post-production. Its operation is also super-quiet, so again, perfect for my desktop and it has an automatic power save function, so I can leave it switched on all the time knowing it will not consume unnecessary amounts of electricity. The single media type and the clever ribbon rewind function means that I can print two print formats with zero wastage and the native 600dpi print option really lets the high-res images captured by my Nikon D850, sing".
Lesley continues: "Photographs are reasonably easy to display, I have collages all around my house, which is something that you can't easily achieve digitally. The digital photo frame seems to have disappeared as quickly as it arrived; they're just not very good and actually demonstrate the superior qualities of physical print very well."
Along with the steady growth in photo printing, interest has naturally turned to printing solutions; especially with the professional and serious enthusiast photographer. More and more are recognising the technical developments, improvements in finish quality and other the many other benefits that dye-sub printers have to offer.
Lesley notes: "In my capacity as a photographer, I have tried a good few printers to produce my work and found that I was always unimpressed with the finish or the time it took to dry and frame the images. As a result, I was really very interested to try modern dye sub solutions due to the fact that the pictures are instantly dry to the touch, do not fade and can be framed and posted almost instantaneously. Whilst searching for printing solutions I contacted a number of suppliers and tried a few products. I was looking for manufacturer support and guidance too, not just another product from just another salesman. It was only when I experienced the customer support at Citizen's photo division that I realised I'd found my chosen supplier. The overall service, not to mention the product itself, was the best by a country mile. I had to have a printer that was reliable, compact, not too expensive to maintain with regards to consumables, and that produced professional images time after time. Having used the Citizen CX-02 for a number of months now, it ticks every box and does everything I need it to. It really is an excellent machine and will be my printing tool of choice from now on."
The power of the printed image is hard to underestimate. Easily neglected but equally easily missed; the physical print is something that holds great value, and not only in an emotive sense. Lesley concludes by describing the commercial value that she has recently rediscovered from using the market-leading Citizen CX-02 photo printer: "Using the Citizen CX-02 has encouraged me to start producing product photography for my ceramics business again, too. Even though the images are mainly used online, I've found that it can be really useful to print and display them for merchandising at events where the quality of the product can be matched by the quality of the picture. I've also started to see the value of quality more and more in my pictures and, I believe as a direct result, seen my wildlife photography used by several national news platforms and popular wildlife TV programs such as BBC's Springwatch."