Let's be honest, most of us have considered or have tried copy media in one form or another. Take inkjet printing as an example; the market is awash with third-party manufacturers. The OEM's (Original Equipment Manufacturer) are now having to offer more than quality alone, in order to retain their customer's loyalty.
A good example of this is HP's 'Instant Ink' program, which offers both quality and convenience in delivering genuine HP ink cartridges, great value monthly pricing plans and automatic re-ordering via the internet.
HP has won back a good amount of the business they had lost to third party suppliers, but the truth is that most inkjet printers can function quite happily using third party inks. Aside from the varying qualities of the ink inside the cartridges, they will largely function the same as OEM cartridges.
An example of a typical print issue that can be caused from using copy media in dye-sub printers The same cannot be said with dye sublimation technology (dye-sub) due to the technical complexity of the media.
"Most inkjet printers can function using third party inks, although the same cannot be said for dye-sub printers" Why different?
It takes between 12–18 months to develop dye-sub media, as the technology involved is extremely complex. Both the ribbon and 'paper' must be harmonised with the running gear of the printer. The mechanical elements of the printer are extremely sensitive to copy media as additional strain can be placed on the thermal head, rollers and motors. Regular users of copy media may find that the life of their machine is shortened and by using copy media, users will invalidate the printer warranty.
Dye-sub media (a detailed technical overview)
D2T2 is an acronym for 'Dye Diffusion Thermal Transfer' or 'dye-sublimation'.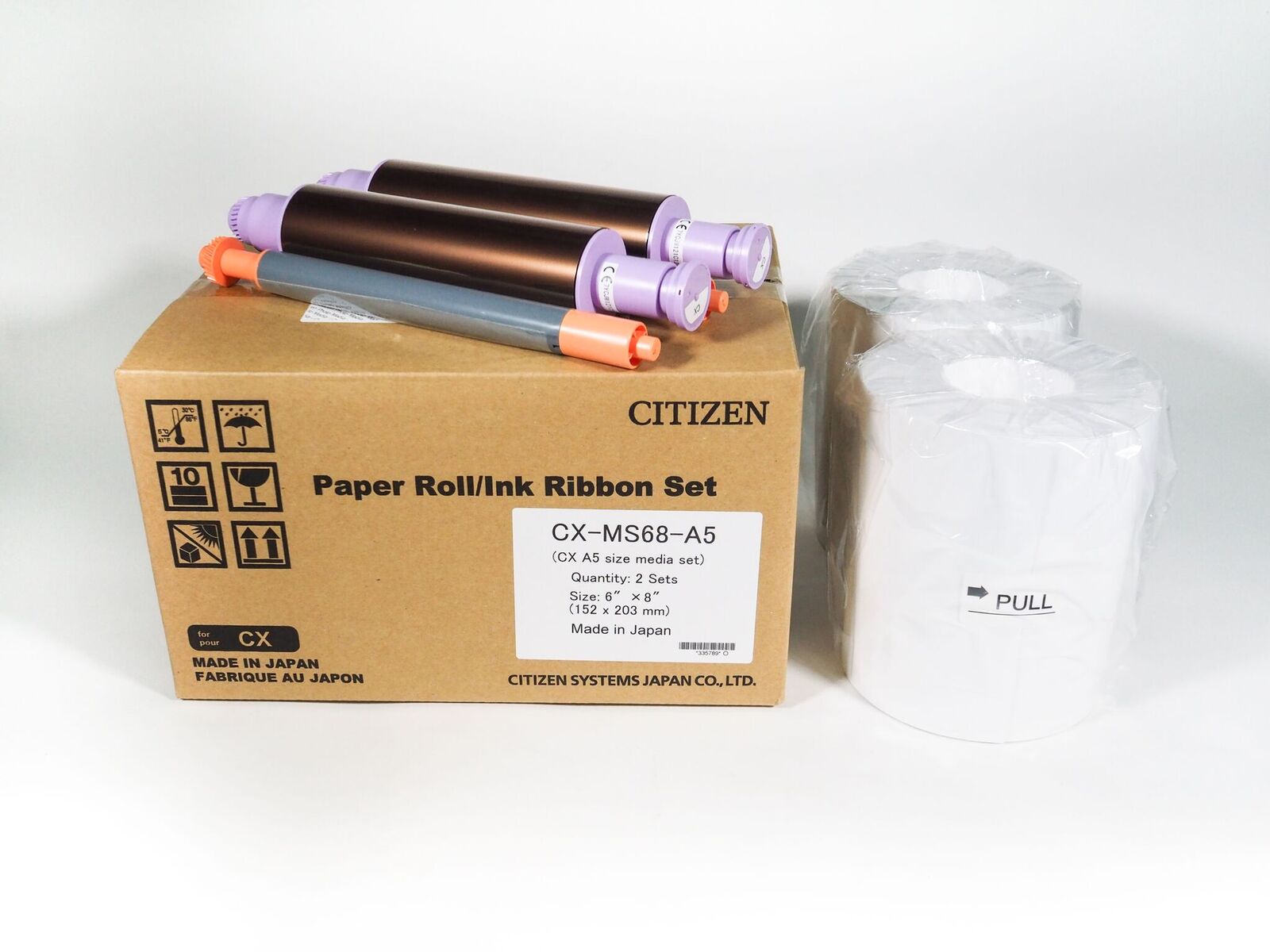 In photo-finishing, D2T2 media comprises a ribbon and a paper based receiver. A thermal head sublimates (transfers) the ribbon dye into the receiver.
In photo-finishing, the ribbon consists of a thin layer of polyethylene terephthalate (PET) coated on one side with repeating panels of CMY dyes, mixed in a solvent, plus a laminate (overlay). The solvent is dispelled during the coating process, leaving a kinetically stable, yet thermodynamically unstable coating of dye in a polymer binder.
This polymer binder transition temperature is in the region of 80–120 ºC, which gives good colour delivery during printing and good storage stability. On the underside of the ribbon is another polymer coating, the back-coat. The back-coat aids the transfer of the ribbon across the thermal print head during the printing process.
There are many commercially available diffusion dyes, but for OEM photographic media, they are designed to have a high melting point and a high optical strength to give good colour intensity at low concentrations. They are also light stable to reduce fading.
The coating machines used in making dye-sub media are huge and cost many millions of dollars to commission and operate.
"Third party suppliers will generally adapt a single type of media for various printer models. Aside from the inherent issues with quality, users may also experience significant delays in stock availability" It can take days to set them up for production and a high volume of initial (costly) wastage is necessary to achieve the required quality for a production run, measured in millions of metres. It is due to this timely and expensive process that third party suppliers will adapt a single type of media to suit various printer models in an attempt to economise. The issue here is the inevitable tradeoff with regards to quality and stability of the media.
Due to the inconsistency in raw material and manufacturing quality, users of copy media will experience variable print quality; without question. One problem is a lower Dmax (black density), which reduces the colour quality and contrast of prints. Another problem is noticeable colour casts, particularly in neutral greys.
Often, new batches of copy media are supplied with ICC profiles in an attempt to improve the print quality. In contrast, Citizen dye-sub media has the highest level of quality and consistency available in the global market. Citizen supplies an ICC profile with the printer that lasts for the lifetime of any printer in their market leading range.
To make matters worse, suppliers of third party media present their inferior products in such a way that many end users will not be aware that the products are not manufactured by the OEM. Citizen recognised that a problem existed when numerous end users complained directly about printer issues and poor quality print output. Many users were shocked to learn that they were using copy media and, ultimately, putting their printers at risk of damage and jeopardising their warranties.
Citizen Photo has made it simpler than ever to differentiate genuine from third-party media by clearly demonstrating the company branding on all packaging; assuring users of peace of mind and allowing them to knowingly adhere to warranty terms
An example of Citizen's original media sticker, which will be found on every box of authentic media. False economy
In the end, the message here is a simple one. Why would you take the risk of negating your printer warranty, achieving substandard output and shortening the life of your machine for sake of a few percent on upfront cost?
It's a classic case of false economy and a road that, those willing parties at least, are willing to go down with the belief that they are saving money.
The new CY-02 printer from Citizen Photo, precision engineering that you can trust Every Citizen printer is engineered with precision and the native media manufactured for them is expertly tailored to work in harmony with its intended model, giving the greatest level of reliability and the highest quality of print possible.
Why would anyone want to risk that?