DI: What are the advantages of the Citizen OP-900II for portrait photographers?
Gary Andrews: The OP-900II provides a reliable and fast print engine and can reproduce a very large colour gamut. Also, the black is very deep and the grayscale gradient is rendered very linear. This is unusual for a photo-dye sublimation printer, which has to put together the black colour of the other colours cyan magenta and yellow. When the OP-900II hit the market, many photographers told me that their prints are outstanding in terms of colour. I've heard that so often that it's more than just a subjective opinion. But then we wanted to know exactly: With the free Citizen Print Manager, you can set up several hot folders with different presets (eg image size, surface or individual frames).
Chris Osbourne of Crossbow Color Consultants - an independent English colour management specialist - has attested the OP-900II excellent colour consistency (after profiling) with a Delta E of less than 2. The colour deviations are so small that the human eye can hardly perceive them. The black density is therefore 2.0 (Dmax) - an extraordinarily high value
With 600 dpi resolution, the OP-900II provides bold, colourful and detailed prints that leave a black background with a black background. This is perfect for portrait, event and wedding photography. A well-known German supplier of high-quality photo studio systems now also uses this printer in its systems for portrait studios. In Turkey and England, but also in Germany and many other countries, the OP-900II is often used - mostly by studio photographers, event photographers, but also by leisure parks and on Christmas markets - for photos with Santa Claus.
DI: Citizen has introduced a new, stand-alone software tool, the Citizen Print Manager. What can Print Manager do better than a regular printer driver?
Gary Andrews: Our printers do not have a front display, but status LEDs. Since the media have microchips, but can read the number of prints. The most frequently asked question in support was: "How can I find out how many prints are still on the roll?". The second most common question was: "Where exactly is the problem" when the 'Error' indicator lights up? And in devices installed in photo booth systems, the question of the serial number of the device also came up again and again.
For all these questions, the new Citizen Print Manager, which can be downloaded for free (!) From tinyurl.com/CitizenPM, offers the solution - plus a 'Hot Folder' function. Our Citizen Print Manager shows all the important information - more precisely: the inserted media type, the number of remaining prints, the current status and any error messages and causes in a clear interface - and in several national languages. The print manager automatically recognizes the connected Citizen printer. Suitable printer models are CX-02, CX, CY-02, CY OP-900II and CX-W. Further information at www.citizen.photo.
Another big plus is the 'Hot Folder' feature. The user can create new folders into which he simply pulls in the pictures he wants to print. In each hot folder, information such as print size, portrait or landscape format, print surface or an individual decorative frame is stored. The photographer then simply pulls the jpg image file into the hot folder, and automatically it will be cropped and the print will start. In the free version can connect a printer, but we are currently thinking about offering an upgrade for multiple printers for sale. Already we have several hundred downloads. The feedback is good.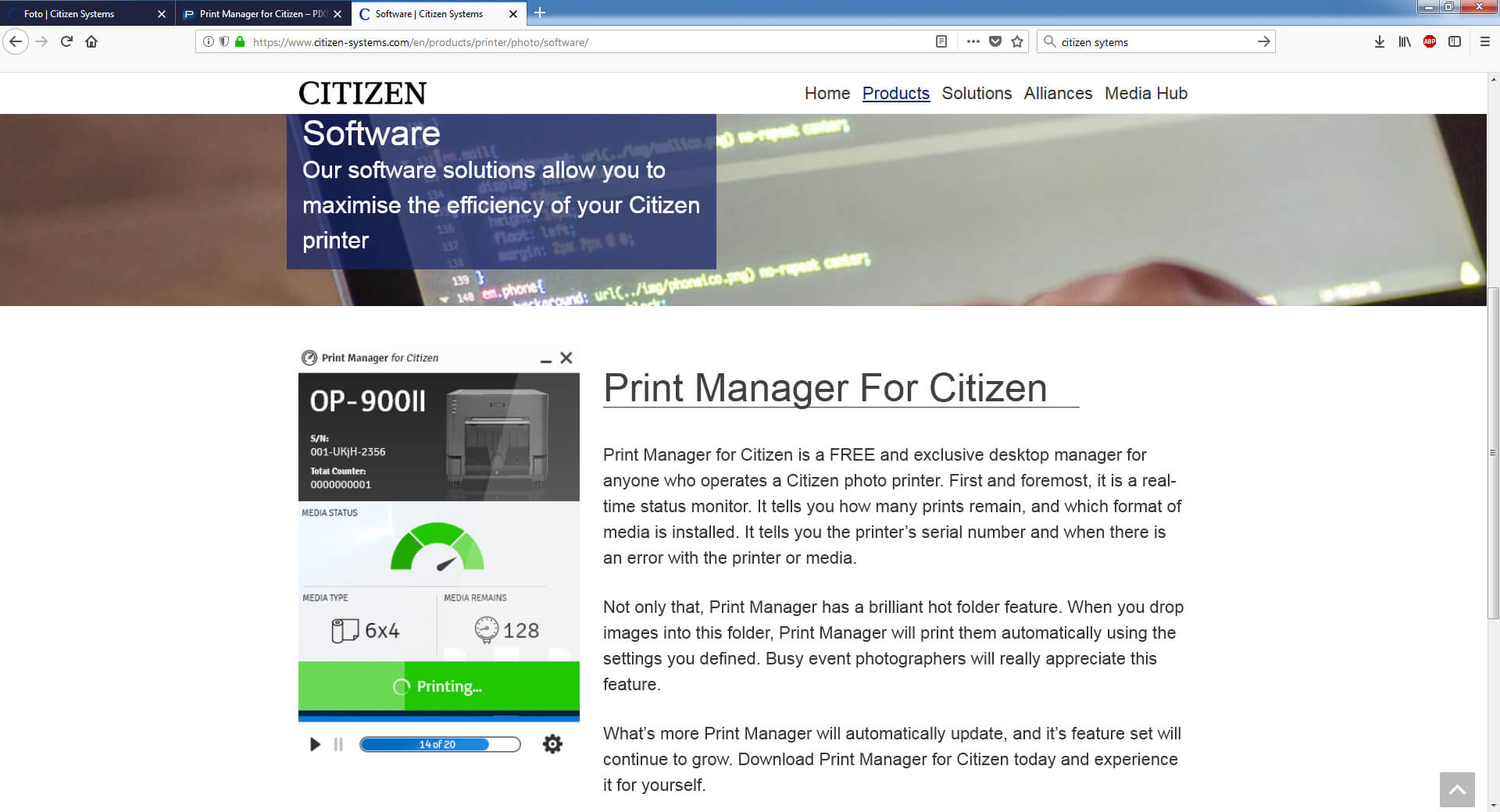 DI: How is the market - in particular, the event photo market in general and for Citizen?
Gary Andrews: Thermal sublimation printers have been around for many years. It is a 'mature' market where cost reduction plays an important role and competition is high. Citizen is positioned as a premium brand. Our printers are very reliable and robust. The retail sector is still strong in Germany, France and the UK - our OEM products are also very popular here. There are no valid market figures for event photo printing, as the providers of the systems are often smaller companies.
For Citizen, the event sector has been a strong growth market over the last 5 years. In sum, 2018 will be another record year for Citizen's photo business in EMEA - despite the challenging market conditions. New resellers in France and the Middle East have decided to work with Citizen. Citizen expands the number of distributors across Europe as more and more customers appreciate the brand and value-added we offer in the photo market. We continue to work hard to make Citizen a strong photo brand. That's why we've made our website www.citizen-systems.com even more user-friendly and offer more relevant content - also HERE.
DI: What are the advantages of Citizen printers for photo booth systems?
Gary Andrews: Photobooth system printers are an important area for us. The Citizen CX-02 made like that. It is very compact and lightweight, so it integrates well with photo booth systems. It is also fast, reliable and portable - and offers high print quality. For example, the company Click it from Reutlingen, has been very successful.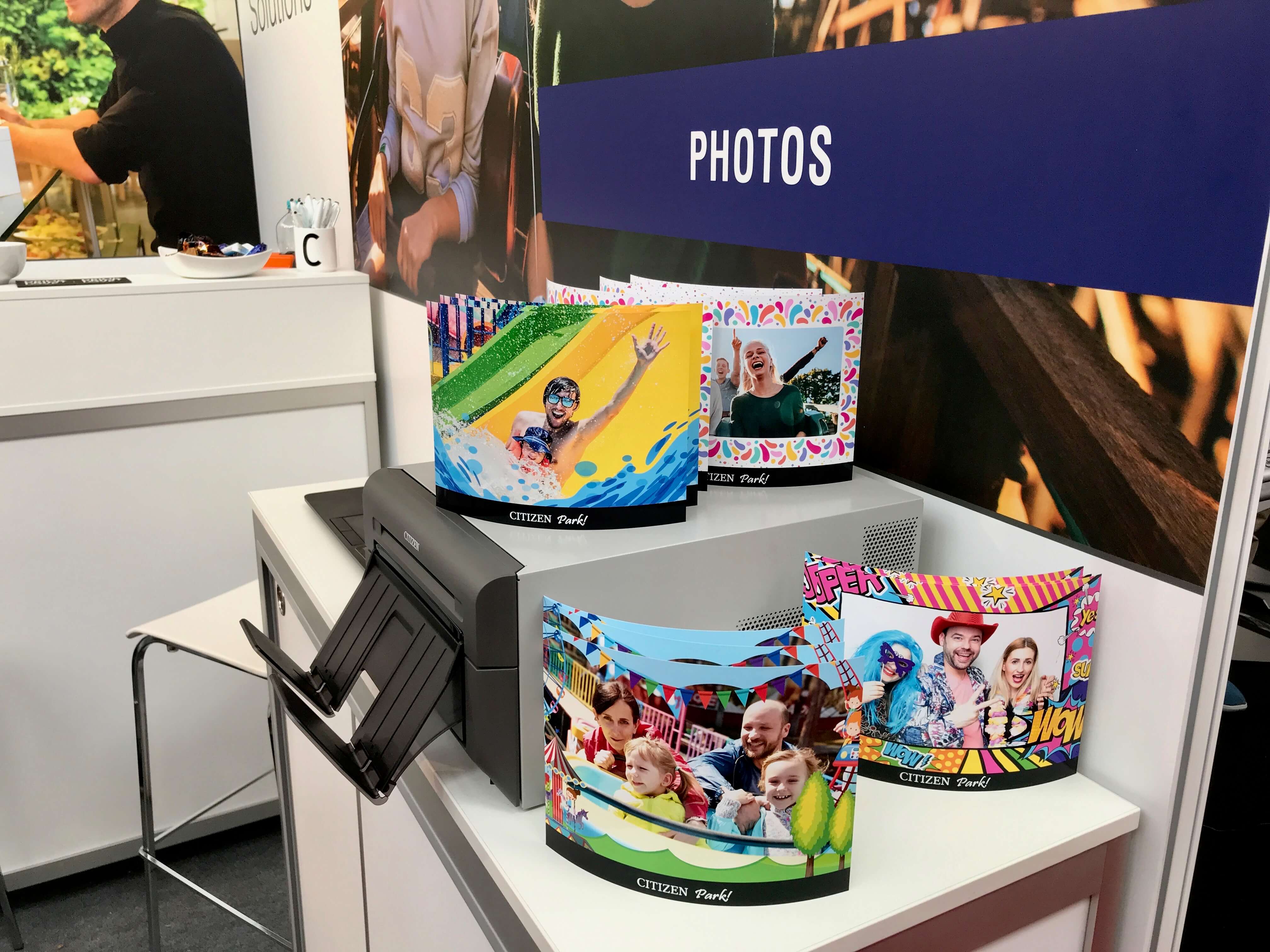 DI: How did the EAS (European Attractions Show) in Amsterdam run for Citizen and what is your assessment of the Photokina you visited?
Gary Andrews: The EAS was a great show for Citizen Systems. The nice thing is that our entire product portfolio is relevant to the buyers who visited EAS. During Photokina 2018, there was a good atmosphere. On the two days that I was there, I had a lot of very positive conversations. I am curious how the changeover will affect the new date in May.
You can see this interview in its original format on Digital Imaging magazine's own online version of the current edition HERE